It's exciting to work with Facebook for ads—all that customization, right at your fingertips—but how can you be sure that your campaign is actually working?
How can you be sure that your conversion rates are good?
How can you even know that people are listening to what you have to say?
If you're racing ahead with the campaign without knowing anything—that could be problematic in the long run.
But there is a tool out there that lets you fine-tune your marketing campaign, just as if you were one of those marketing ninjas effortlessly creating campaigns that simply work.
And strangely enough, it's a tool from Facebook itself.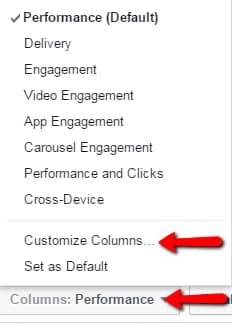 In fact, it is the most powerful, little-known tool out there. It's kind of like Facebook's GPS for Facebook Ads.
You wouldn't drive to a new area without setting up your GPS—so why would you be so careless with your marketing strategy?
Facebook Ad Reports is one amazingly powerful tool that shows you exactly where your campaign is working and where it's failing—and that means better advertising and more conversions for you as you update and optimize your campaign based on those reports.
Even better—hardly anyone uses Facebook Ad Reports, giving you an unfair advantage over your competitors!
All you need to do is find it in your Facebook Ads Manager and click on Customize Columns to set up your report.
Once you've clicked on Customize Columns, you'll see something that looks like the image below and you'll be able to use this incredible tool to give your ad campaign a super boost!
There is a small learning curve, and I know it can be intimidating to look at first—but the truth is that you don't need all the information Reports throws at you.
What you are looking for is a report that shows you whether you're meeting your goals, and Facebook Ads Report can be customized to do just that—and all at a glance.
All you need to do is decide what your goals are and create a customized report that shows you whether you're succeeding or failing.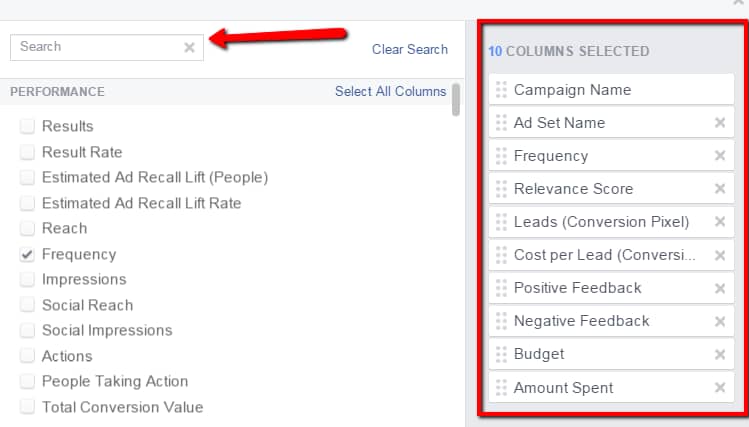 Feel free to use my template if you're also concerned with your conversions 🙂
Simply create a report and that's it!
You can also have a daily report sent to your inbox so you don't need to keep re-navigating through the menus.
This is a seriously powerful tool that you need to start using today!
I want to hear from you…
Go on, give it a spin now—take advantage of this secret, powerful tool and leap frog over your competition!
Once you do that, come back here and share your experience with setting up (or updating) your report.