Have you ever wondered how you could create a good ad without wasting time and money?
Want to follow step by step instructions and learn how to drive more traffic using Facebook ads?
I will take you by the hand and guide you, taking the right steps for the best Facebook ad results.
Here we go….
Step 1: …..
The very first step in this process is choosing the right content to share! 🙂
This isn't tough – it could be the newest blog post on your website, a promotional/free offer, a webinar or a link.
Whatever you choose, remember to make sure it's something that someone else would want to click on when they see it.
For this guide, I'll be using this external Link:
Step 2: …..
Alright, once you've decided what you're going to share, point your browser towards https://www.facebook.com/ads/create
Stay focused (this is the important part)! I know it's easy to get distracted by that time-munching monster called Facebook 😉
As you can see, you can either add a story straight from your business page on Facebook or you can add an external link – which is what I have done here.
Step 3: …..
You'll need some snappy, attention-grabbing copy for your ad. You want people to look at it and click on it, don't you? 🙂
Here's what my screen looks like at this point: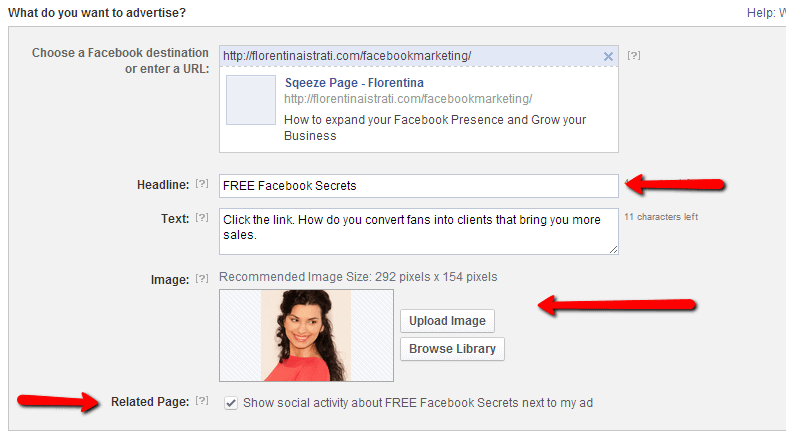 Get to working on that copy – it'll need to be short and succinct – do you see that strict character limit Facebook has on its ad?
Step 4: …..
Get rid of the 'Sponsored Stories' option.
Do you see the little 'Remove' option at the top right hand corner? Click on it!
This will save you some advertising money, but it will also prevent your ad from appearing in Facebook Newsfeeds.
Keep in mind, however, that only Facebook posts which you promote will be able to show up in the Newsfeed.
Step 5: …..
This is the slightly tough part! Who do you target? What kind of people do you want to market this ad to? Make sure you're VERY thorough with your targeting.
The more specific you are with your targeting, the more likely you are to increase traffic to your website.
Step 6: …..
There are so many options here and it's easy to feel overwhelmed, but first – think in terms of demographics, then think in terms of behavioural targeting.
Are your customers most likely to be interested in coaching or swimming ?
Would they describe their hobbies as "taking photographs" or "intellectual discussions"?
Make sure you add precise interests of your ideal client. You can even add pages with big communities but you can add your competition page as well.
Keep these ideas in mind when you target your customers.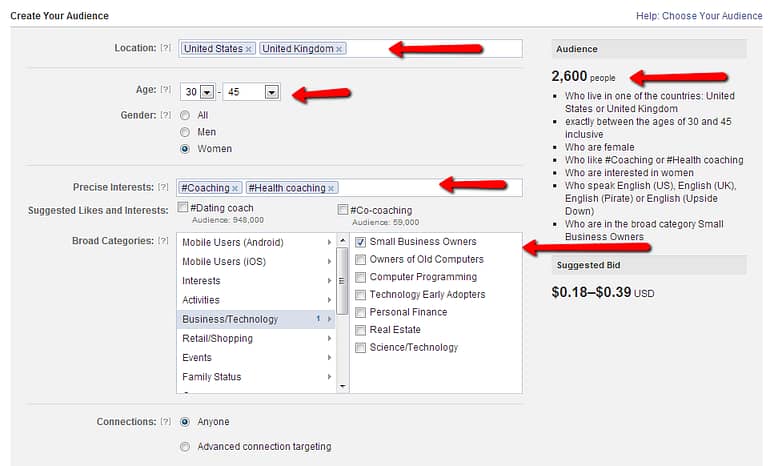 Look at the numbers on the right, immediately when you narrow down the interest you will notice the number will do down.
Don't worry if you have 3000 or 6000 people. You will get to know really well those people. Make sure you have less than 100 000 people.
Step 7: …..
Facebook has rolled out some very impressive targeting options – you can even target friends of fans of your page now! DO IT! They are more likely to click on your ad if they see a friend has Liked your page! 🙂
You're doing a great job so far! All the hard work is nearly done! There are only 5 more teeny tiny steps left to go.
Step 8: …..
You've got to give your campaign a name! It'll make it so much more easy to manage later on.
Step 9: …..
Establish a budget for your ad. I initially chose $40.00 per day as the running cost of my ad. You can spend less or more depending on how many people you want to reach with your paid advertising 🙂
Step 10: …..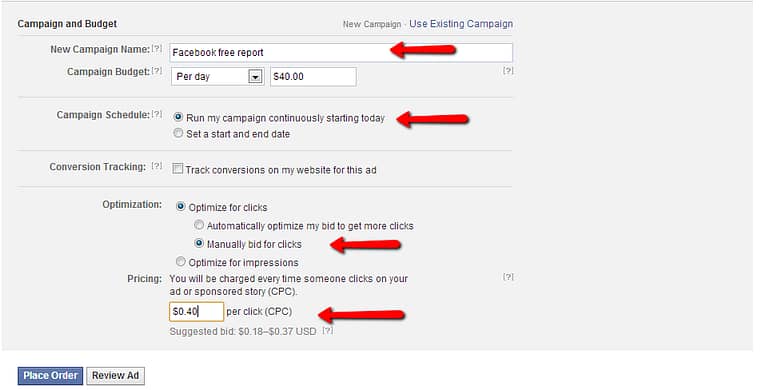 Decide if you want to run your add continually or through a specific time period.
Step 11: …..
I also chose to 'Optimize for clicks' – it provides better value for money and it's much easier letting Facebook do all the hard work for you 😉
A little secret that it might surprise you. I will bit a little bit more . Why? Facebook likes that and it will show my add more than the rest so I will get more exposure. You want to go little above the facebook bits.
Step 12: …..
If you think you're ready, click "Review" at the bottom of the page.
Read over it carefully! Make any changes while you still can 😉
And when you're sure it's The One, just click on "Place Order"
Voila! You have made your first Facebook ad! See, it wasn't that difficult was it? 🙂
Back to you!!
Have you ever used paid advertising on Facebook in the past?
How did it work out for you? Did you notice any spike in your traffic?
Do you have any more tips for how to create a killer Facebook ad?
If so, please share them!! I really value your thoughts and feedback, and I love hearing back from you.
Leave your lovely comments in the box below and let's get a dialogue going! 🙂