Are you thinking about creating your own official Facebook page?
Do you want to find out how to create a business Facebook page in a few simple steps?
Most often people get entangled in the page creation process because they do not have a clear blueprint of how to create a business Facebook page from scratch.
[dropshadowbox align="center" effect="lifted-both" width="250px" height="" background_color="#ffffff" border_width="1″ border_color="#dddddd" ]Note: This is the first of a series of articles about Facebook marketing. Together with the 4 blog posts that will follow, you are going to receive a complete & compelling Facebook training in the course of one month.[/dropshadowbox]
If you haven't yet, now you can subscribe to my newsletter if you want to be notified when I publish the next articles.
Are you curious to find out more?
Read on to discover how to create a business Facebook page that you and your followers will love!
Before getting started, here's one CORE thing you must know: In order for you to be able to create an official Facebook page, you either have to already have a personal profile, or you can create a new business account. To do that, go here.
Here are the 5 simple steps you need to follow:
1. Classify your biz
All things have a beginning and your journey about learning how to create a business Facebook page starts right here; open a new window tab, then copy and paste the following link:
https://www.facebook.com/pages/create/
What you will see is a list of 6 main business categories: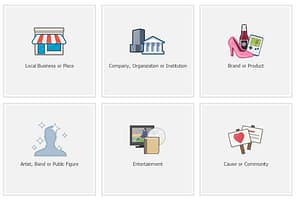 Can you spot the category which best suits your business activity? Go with it.
Here's a secret tip: This classification process will help Facebook make an idea about your type of activity; as a result, Facebook will be able to help your page rank for relevant searches.
Even more, depending on the category you choose, you will also be provided with information fields on your page which are specific to your activity.
Pay attention, though, when you type in your category. Once you created the page you cannot change the category anymore.
Next, you will be asked to fill in your business/brand/company name and location information.
Okay, have you done that? It is time to move on with how to create a business Facebook page.
Here comes the next step::
2. Provide basic information about your business
This part is similar to the process you go through when you meet someone; the first things you find out about them is their looks and their interests.
Only… this time you are the one who is making an introduction to your audience.
Here is what you will have to complete next on your Facebook page:
Profile Photo & Timeline Photo
While learning how to create a business Facebook page you will also have to go through the step of adding a profile photo for your page.
Do you have a photo which is representative for your business? Do you have a photo your prospects and customers are familiar with?
For better brand recognition, add a profile photo which people will recognise and identify with you / your business. This is also the photo to appear next to your Comments and News Feeds.
How to choose your profile photo:
If you are a singer or a business person, choose a profile photo of yourself.
If you have a company or a brand, add your logo.
If you sell a specific type of products (for example, if you only sell bottled water) you can add a branded photo of your product.
Bonus tip: Choose a photo which is at least 180×180 pixels. On your page the photo will shrink to 125×125, but a bigger resolution is better for those who click to see the big picture.
The Timeline Photo should also be something representative for your business; but you can use it creatively. Create images for your offers and sales and put them as timeline pics – it really helps get your message across faster.
Here are some creative ideas of people using the Timeline Photo to their advantage: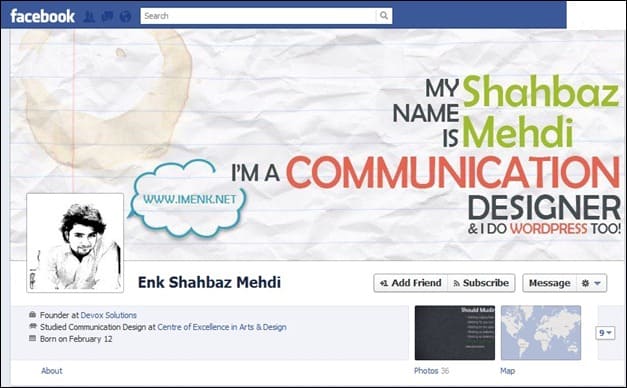 Are these inspiring or what? 🙂
About Us section
Next, you'll have to introduce yourself. At this point you want to avoid writing novels; there is enough room for that on your website.
Instead, focus on the core competencies / features / benefits of you or your company, product, service and so on.
Be succinct. The information you are filling in will appear on your page, so it has to be descriptive but at the same time short.
For better results I advise you to include a link to your company as well. Start the "About" section with a URL to your website and then describe what it is you do. Use no more than 2-3 sentences to do that.
Here is what I wrote on my official page while I was learning how to create a business Facebook page:
3. Getting accustomed with the Admin Panel
Although at the first sight it might seem a bit intimidating, the Admin Panel is easy to work with.
Post – shows you each post, its reach and the results of paid reach (if you use it).
Get More Likes – you can boost your posts to appear as ads if you pay for them.
Insights – A review of your posts' reach and success. You can see if a post went viral, how many people are talking about your post, and so on.
Messages – You can send and receive messages just as with a personal profile.
Invite friends – If you use a personal profile for your business profile, you have the option of inviting your friends to like your page.
Notifications – Whenever someone interacts with your posts, you are notified about it.
Edit Page – The place where you can edit aspects of your page.
Build Audience – Create ads and promote your page and posts. You'll have to pay for it.
Help – The Help Centre. Facebook has an extensive help centre for its users. If you want to access it, go here.
4. Add Content to your page
See? Your profile page is really gorgeous now! Still, there is one more quick thing that you can do…
You don't know how to create a business Facebook page if you managed to build it from scratch and then you don't know what to share with your audience.
1. Start with the Custom Tabs. Now, while you CAN add lots and lots of extra tabs, Facebook will only display 4 of them on your page. The rest can be seen if the user clicks on the "More" button.
You can either add links to your other social media profiles, or you can link directly to your website (the only catch is that your website must be secured – that is, you must have an https:// website instead of just http://).
Here is how Custom Tabs look on my profile:
2. Create a content sharing strategy. But more about this in a future post about Facebook marketing.
5. Evaluate your efforts
While your page is indeed looking great, you don't want it to be solely an aesthetic thingie. You want to use it to promote your merchandise or services, so you want it to be measurable.
Therefore, an important thing when learning how to create a business Facebook page is to quickly identify the measurement resources Facebook provides you with. To do that you can click on the 'View Insights' button in the Admin section. You can monitor:
reach
engagement
virality
information about people who like your page (age, sex, etc).
…and the like.
And voila! Now you know how to create a business Facebook page from scratch in 5 simple and quick steps.
Are you going to implement this in your online marketing strategy?
Do you want to find out more about Facebook marketing?
Then keep a close eye on FlorentinaIstrati.com because this month is dedicated to using Facebook as a marketing tool!
Do you have a friend who could benefit from the information in this article? Share it with them and let them learn how to create a business Facebook page.
Don't forget to let me know what you think about this article too! I'll be waiting for your thoughts in the Comments section below.
See you next time!
Blessings,
Florentina