Does the idea of getting leads and sales consistently make you dance (I feel the same 🙂 )
You've tried to create your own campaign, set up your ads plus anything else known to man, but nothing gets sales?
Here's the thing – it doesn't have to be so hard!
In this article, you'll discover 9 steps to create a "clever funnel" that's responsive & interactive …and entices your prospects to buy…like a living, breathing sales person.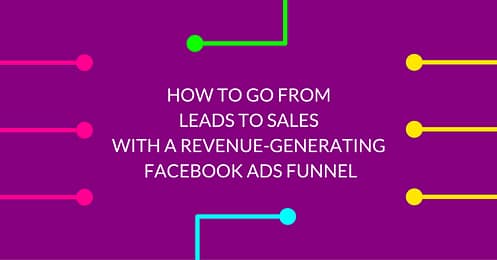 When you have this kind of funnel, you can:
Book more discovery calls with qualified leads (fully booked? – yes, please!)
Get more leads for your webinars (10 people on your live webinars? – enough of that!)
Attract more buyers for your products/services (yes, consistently!)
Reach more (and new) people/audiences ("hello, bigger impact!)
Have more free time (quality time with your family, kids, friends – or just do whatever you want – Finally!)
Most importantly,  TURNS PROSPECTS INTO SALES
Let's get started:
Use Your Low-Hanging Fruits
Here's the thing – When you start your campaign, you have three main options for targeting:
People Who Know You – These people know, like and trust you. They know about your business and how you can help them. They're already on your email list or are the people who visit your website. Facebook calls this a 'Custom audience'
People Who Are Similar To The Ones Who Know You – Facebook calls this a 'Lookalike audience'
People Who Don't Know You – Your target is based on interests and people who are complete strangers to you. They have no idea about your business, who you are or how you can help them. Facebook calls this a 'Saved audience'
You'll start your campaign with the first category, which features low costs and high revenues (your low-hanging fruits)
To get started with creating your audience, go in the Ads Manager >> Tools >>  Audiences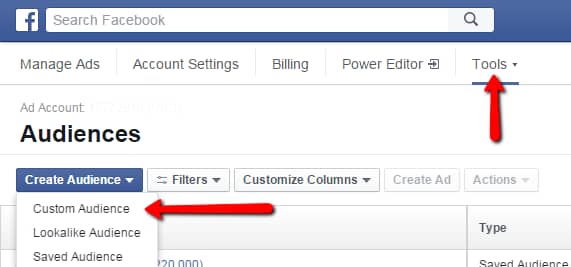 And you'll create your custom audience.
Tweak & Track Your Ads
When picking your ad image, you should choose a high-quality, professional-looking photo, right? NO!
Let me explain…
Think about your potential subscribers: What are they doing on Facebook?
Probably seeing what their friends are up to, right? Right!
They are there to connect with family members, friends and so on.
They're definitely not on Facebook to buy products – they're in a relaxed mindset, not a buying state of mind.
This is not LinkedIn; it's Facebook.
Your job is to make your ad look as much like the other familiar items in their news feed as possible.
Why? Because as they're scrolling down that list of items, they'll be making split-second decisions about what to pay attention to and what to ignore.
So how can you get their attention? With a friendly image of yourself.
Take some pictures with your phone.
These are some of the best pictures you can use because your ad will now blend in with all the other images on your subscriber's news feed.
Take a look at some of the images I've created and use them for your inspiration.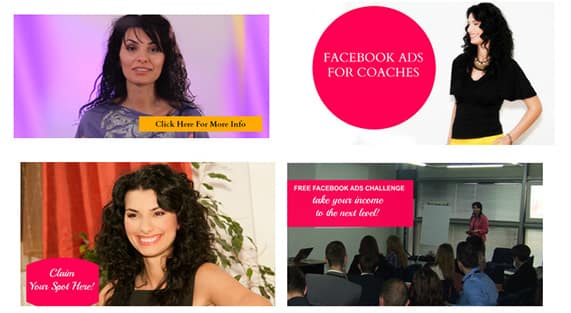 Three Guidelines When Creating Your Image
Use strong colours such as purple, pink, red etc.
Use images of yourself if you can
Use call-to-action in your images (learn more, claim your spot, etc.)
IMPORTANT: If you decide to use text over your photo, make sure it follows Facebook's policies and takes up no more than 20% of the image.
Use a free tool, like Canva or Pickmonkey, to edit or create your image. Then use the Facebook grid tool to make sure it complies with the text rule.
One more thing – follow the Facebook guidelines when it comes to image size.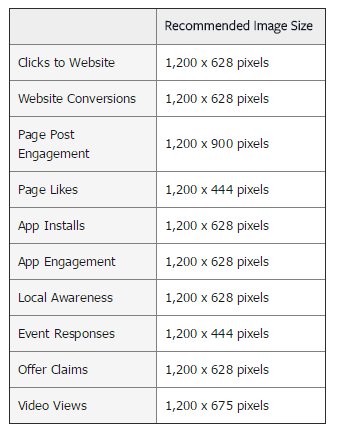 If your image needs to be friendly to catch your potential subscribers interest, your ad copy should be friendly too, right? Right!
How do people talk to each other on Facebook? Do they use corporate speak? $10 words?
Proper grammar? Smiley faces?
Of course not. Neither should you!
Write as if you're talking to your best friend.
Below you'll find the Facebook ad copy template you need to fill in!
Body Text
Headline
News Feed Description
Call-To-Action Button
We could talk about copy for days, but we need to move forward.
Optimize Your Landing  Page
After you decide on your welcome gift/lead magnet (which is based on your ideal client needs), you'll create a landing page.
Using LeadPages makes this very easy.
Once you get started with this tool, not only will you have the option to create some really great looking landing pages but you'll also be able to create A/B tests. Why do you need to do that?
Well… to get more $$ with your Facebook ads.
Here's the deal… If 30% of your page traffic converts into email subscribers, you'll have 30% chances to close new clients.
If your page converts at only 10%, your chances go down to – yes, you guessed it – 10%.
That's really important stuff, right?
So, how do you get to 30% (or higher) conversion rate?
With A/B testing! LeadPages makes this task super easy.
You'll create your capture page and after you're done, you'll create 2 – 3 more variations of the same page (with different elements of course).

You'll test until you reach a decent conversion rate. 10%+ for beginners and 30%+ for more advanced audiences.
Check out some of my examples below: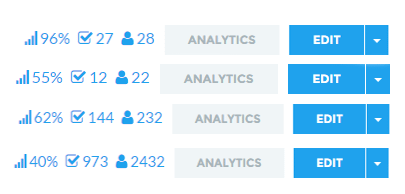 [feature_box style="12″ only_advanced="There%20are%20no%20title%20options%20for%20the%20choosen%20style" alignment="center"]
Want Even More Training On How To Create A System That Brings You Leads & Sales Consistently?
JOIN THIS FACEBOOK ADS FUNNEL MAKEOVER NOW
[/feature_box]
Leverage Your Thank-You Page
When you check someone out and request their free content (eBook, webinar etc.) is it the whole offer or the free offer you are more interested in?
I know that I want the good, expensive stuff.
I want to know if what they're selling is something that will fulfill my needs.
MANY people leave money on the table simply because they don't take this simple step.
Add an offer on your thank you page.
You may not like it, but here's the thing – it works well!
Bonus tip: Invite people to a discovery call and become a master on closing deals.
You might connect this with the previous step.
We're talking about adding a paid offer on your thank you page.
BUT if you don't feel comfortable about that kind of thinking or if that it's TOO MUCH or too 'sales like', you could let people know about a free offer.
Something I've found has worked really well is to invite people to book a Facebook Ads Discovery Session with me.
This works so well because many people don't want just Facebook ads training; they also want one-to-one support and even customised services. Inviting them to book a session on how I can help them feels like a natural step.
Think about this and see what kind of offer you could add on your thank you page.
Connect With People
If you want to promote a product or are thinking about creating a launch campaign, a webinar is a great solution.
They work IF you know what you are doing. I build webinar sales funnels from A to Z for my clients as a done-for-you service and there are many elements. I could write a book on this subject alone.
BUT for today I just want to highlight the importance of one area.
Connect with your audience BEFORE (and after) the webinar. How?
By creating a strategy for your emails.
Your main goal should be to build on those known, liked and trusted factors before the webinar starts.
You could send blog posts, case studies, work results, videos of yourself talking in front of the camera, a video demonstration or checklists, etc. Put yourself in your ideal client's shoes; imagine their world, their frustrations, and their dreams.
Then think about what content you need to create for them.
If you have a 10-day time frame before the webinar starts, you could set your emails the following way:
Day #0: Email A – Welcome email, sent out automatically when people subscribe to your free offer
Day #1: Email B – Value – Add email (blog content, video training, etc.)
Day #2: Email C – Value – Add email
Day #3: Email D – Value – Add email
Day #4: No email
Day #5: No email
Day #6: Email E – Value – Add email
Day #7: No email
Day #8: No email
Day #9: Email F – Value – Add email
Day #10: Webinar Day: the day you'll host your webinar. Send 2-5 email reminders to increase attendance rate.
Email G – Webinar Reminder (12 hours before the webinar starts)
Email H – Webinar reminder (6 hours before the webinar starts)
Email I – Webinar Reminder (2 hours before the webinar starts)
Email J – Webinar Reminder (5 minutes before the webinar starts)
Send Out 3-5 Reminders
I want to highlight this point! People are too busy and caught up in their own world and you'll lose a lot of money if you ignore this small step. I know because it happens to me – I opt into webinars and then just forget about them.
People who have a good email sequence with me win most of the time.
Don't worry that it's too much – these people subscribed to your webinar!
They want to know what you have to say! So keep them posted and alerted to the event.
Remember: If someone joins your webinar LIVE  and watch your presentation, they are more likely to buy from you!
Your job is not only to add people to your email list but also to make sure people show up live, listen to your webinar and buy from you.
[feature_box style="12″ only_advanced="There%20are%20no%20title%20options%20for%20the%20choosen%20style" alignment="center"]
Want Even More Training On How To Create A System That Brings You Leads & Sales Consistently?
JOIN THIS FACEBOOK ADS MAKEOVER NOW
[/feature_box]
PRACTICE
Speaking of buying… how do you entice people to buy from you?
By having a product that speaks to their needs AND having a great close as well.
How do you make that happen? PRACTICE! Practice your close before the webinar.
Use your mirror and practice.
Be confident; speak about the benefits, not the features, of your product.
Remember that your audience needs you more than you need them.
You have the solution they need and are willing to pay for.
It's your job to make them see that VERY clearly.
Use Scarcity
A great way to improve your close and increase your $$ is to use an authentic scarcity offer.
If you sell 7 coaching spots, let people know.
If people have a sense that they'll lose something if they don't act IMMEDIATELY, many will take quick action to avoid missing out.
Many of us procrastinate and don't take action simply because there's nothing 'pushing us' to do so.
Action step for you: make sure you have a scarcity element to get more $$ from your marketing campaign.
[feature_box style="12″ only_advanced="There%20are%20no%20title%20options%20for%20the%20choosen%20style" alignment="center"]
Want Even More Training On How To Create A System That Brings You Leads & Sales Consistently?
JOIN THIS FACEBOOK ADS MAKEOVER NOW
[/feature_box]
Know Your Numbers
Want to have a $100,000 launch with Facebook ads? Great!
The first step is you need to know your numbers!
How? Simple! It's a numbers game and it's pure math.
Example: Let's say your product price is $897.
At $897 you need 112 sales to bring in $100k.
If you can close 10% of webinar attendees, you'll need 1120 on the webinar.
That means you'll need to reach 5600 to get 20% (1120) registered to attend.
This is an example only.
You need to know what type of conversion you're going to get on your campaign.
If you can get conversions at $3, you'll need to invest $16,800.
Important: Those $3 conversions will depend on you having warm traffic that you can pull registrations from. If you have to depend on cold traffic, you'll probably be spending in the $4-5 range.
Remember, you want to start with warm traffic (the people who know you).
Investing $16,800 to make $100K… That's a pretty good deal!
That's a pretty good deal!
Here's the thing to remember…
CLEVER FACEBOOK ADS MAKE REAL MONEY FOR YOUR BUSINESS
But there are many moving parts, right?
You have your targeting, bidding, images, and statistics you need to track (and understand).
Then you've got your website pages, your lead magnet, figuring out how to write "copy that converts."
Then you've got to "optimize your ads to make them work." (Get ready to do some sleuthing to figure this out!)
Bottom line: It's a lot to do, let alone do right, to make sales!
But here is the thing: your campaign success depends on it!
Your ability to nail ALL OF THIS AT ONCE is going to be the difference between wasting money and reach your wildest financial dreams with your ads.
Join me here and you'll get the support you need to create ads that bring you leads & sales consistently.