Have you spent hours on your Facebook ad, only to have it rejected?
Does it make you feel as though you'd like to run into a wall?
Well don't worry! There are reasons that Facebook ads are rejected and I'm going to tell you about them in this article. So then you can stop looking at that wall and find out how to get your ad accepted. 🙂
First of all…
The 20% Rule Last year, Facebook updated a rule for news feed ads and sponsored posts. As with most things that are changed on the internet, it had marketers in uproar. Welcome (or not as the case was) the 20% rule.
The 20% rule says that in any ad or sponsored post that shows in the newsfeed, there can't be anymore than 20% of the ad space taken up with text. Straight forward enough yes? Noooo… There's more.
Text that is part of a logo or already on a product does NOT count towards the 20% because it is a natural part of the image.
Text that DOES count towards the 20% is any text that has been overlayed on top of the
image. Confused? I was at first, but it's really quite simple once you understand it.
How to Comply
One of the easiest ways to make sure your ad complies with the 20% text rule is to make sure there is hardly any text on the ad at all.
But doesn't that make advertising harder? Well yes it does a bit. But here's the thing… good advertising isn't supposed to be easy. Too many people these days rely on words to tell their story in an ad when the images should actually do all the heavy living. If you have a good visual concept, you don't need a lot of text.
Once you have fiddled around with your ad so that it's just right – Facebook have supplied a tool that helps you to see if your ad is more or less likely to be accepted.
The tool allows you to lay a grid over your ad. You can then use this grid to find out the approximate percentage of text on your ad. For example – if four boxes are taken up with text, you have approximately 16% text.
This is a major plus to try to avoid your Facebook ads being rejected. But it doesn't guarantee approval. There are some other aspects to take into account. This might surprise you…
Check your Outgoing Link
Maybe it's because a lot of the people who create adverts on Facebook aren't marketers. Maybe it's because they're using Facebook ads as a secondary marketing tool and not paying full attention.
But there are some extremely common mistakes that online business owners are making. And it's getting their Facebook ads rejected.
Problem #1 You've made a promise that you can't deliver
False advertising is a big deal. Facebook doesn't want to be involved with anyone who is falsely making claims that they can't back up. So if you promise to give people a winning lottery ticket in ten minutes, then you need to do that. If not – don't expect your Facebook ad to be approved. But that will probably be the least of your worries if you have been promising people a winning lottery ticket!
Problem #2 Your ad offer and your landing page offer don't match up
If you offer people a free book on marketing on your Facebook ad but then the link you send them to is for a landing page for a 20% discount on a health training course – your Facebook ad WILL be rejected.
To make sure you don't get your Facebook ads rejected you need to:
Make sure that you're not using too much text in your ad  Let the image speak for itself. Choose something powerful that people will understand in an instant.
Make sure you're not promising things you can't manage  Facebook doesn't like it and neither will your clients. You want a reputation for being reliable and keeping promises, not breaking them.
Make sure your ad and your landing page send the same message Every ad needs to have one clear message or idea that people will want to find out more about. The landing page needs to explain that idea and entice your audience to take action. But it is THE SAME message and idea that needs to run on both. Otherwise it just gets confusing. And confusion doesn't sell anything. 🙂
See it in Action
So now you can see an example of a Facebook ad that sticks to all the marketing rules and all the Facebook rules… it's one of Mine!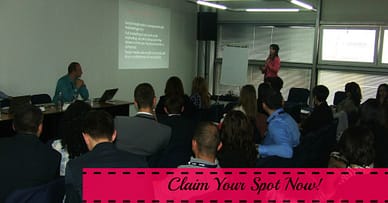 You can see that the text isn't overpowering the image. And if you click on it – go on you can click on it – you will see that my landing page and is a continuation of thought from the ad. and I can most definitely deliver on my promise! ( Btw, feel free to join the webinar)
Back to You
I always appreciate having your attention for a few minutes and I hope this article shed some light on a tricky subject for you. In fact I'd love to hear what you think…
Have you had problems with your Facebook ads? Why don't you try the tips in this article and see if it makes a difference. I'd love to hear about your results in the comments below.
Or maybe you have your own checklist for creating ads that you'd like to share?
Until next time,
Have fun with your ads! 🙂
Florentina